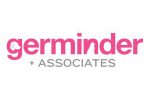 Goodnewsforpets Helps Conclude Germinder20 Power of Pink Celebration At NY Vet with Booth Prizes & More
It's a wrap. Goodnewsforpets returns November 8-9 to NY Vet Booth #1100 with Germinder + Associates and GNFP Digital to  to celebrate the near end of a fantastic Germinder + Associates 20th anniversary year. The company began the year with a VMX booth and kick-off cupcake party and veterinary book signings, additional sponsorships and trade show appearances and several speaking engagements.  Lea-Ann Germinder will give two talks at NY Vet.
The biggest success of the year has been the #Germinder20 #PowerofPink Honorees program. Each Honoree is celebrated for their contribution to Germinder's success and featured in Goodnewsforpets.com. A $1,000 donation is made in their name to the not-for-profit of their choice. The latest named Honoree is Lane Odle, Founder of Dotted Line Marketing, a former senior account executive at Germinder +Associates. Stories of each Honoree to date can be read here. #Germinder20 #PowerofPinkHonoree
The company's NY Vet booth #1100 will be designed to celebrate the company's 20th anniversary, feature veterinary prize giveaways, and introduce the Goodnewforpets.com digital platform and GNFP Digital services to veterinarians and team members. Germinder's Lightning Talk, "What's Your Story Now? Tips and Techniques That Help Your Practice Communicate & Connect with Today's Pet Parents in Social and Traditional Media," scheduled for 12:00 – 12:35 p.m. Thursday and 12:15 – 12:50 p.m. in Exhibit Hall 1B will also further serve to introduce the firm's legendary and award-winning concepts in communicating veterinary issues and engaging pet parents.
"We're thrilled to not only participate at NYVet again, but conclude the in-person celebration of the Germinder20 Power of Pink anniversary year in New York City, our corporate headquarters. We'll talk with veterinarians and the veterinary healthcare team and the companies that serve them at this fabulous veterinary event. And, we'll still have plenty more to say online before the year concludes as we set the stage for 2019," said Lea-Ann Germinder, APR, Fellow, PRSA, President + Founder, Germinder + Associates. Germinder is also Editor + Publisher of Goodnewsforpets.com and Founder of GNFP Digital.
###
#Germinder20 #PowerofPinkHonorees are announced and given the opportunity to designate a $1,000 donation to be made in their name through Germinder's 20th Anniversary Fund Giving Back program to a not-for-profit organization of their choice. To date Honorees named and their designated donations include: Debra Horwitz, DVM, DACVB (donation to: Missouri Humane Society), Heidi Lobprise, DVM, DAVDS (donation to: Lutheran Church Charities K-9 Comfort Dogs), Elizabeth Colleran, DVM, MS, DABVP (donation to: Winn Feline Foundation), Dan Richardson, DVM, DACVS (donation to: Stormont-Vail Foundation Care Line), Manolita Moore (donation to: The Pixel Fund), Jen Reeder (donation to: Green Dogs Unleashed) Mary Beth Leininger, DVM (donation to: Purdue University College of Veterinary Medicine Scholarship Fund), Guy Pidgeon, DVM, DACVIM (donation to: Colorado State College of Veterinary Medicine Scholarship Fund), Megan Peters (donation to: KC Pet Project), Julie Lux (donation to: the American Beagle Rescue Network and the Dalmation Club of America Foundation), Amy Shojai (donation to: Cat Writers' Association), Norita Taylor (donation to: Band of Angels) Links to personal interviews with each honoree are also featured here.
#Germinder20 #ThePowerofPink was announced in January 2018 as part of the celebration of Germinder's 20thAnniversary. The women's storytelling initiative highlights the founder's story of breast cancer survivorship and also shines a spotlight on leaders whose stories have touched and inspired Germinder to success. Initial donations have been made in honor of Rache Simmons, MD to The Weill Cornell Breast Center at the Weill Cornell Medical College/New York Presbyterian Hospital, an integrated, multi-disciplinary care center where Germinder was successfully treated for breast cancer six years ago. Another recipient is the Clara Goy Foundation in memory of Germinder's brother-in-law, Gene Melleno, a girl's high school basketball coach who passed away Jan. 1, 2018. Other donations have been made to the Jan Hus Community Outreach Program in honor of Germinder's immigrant great-grandmother Marie Therese Kacin and to the News Literacy Project.
Germinder + Associates provides communications services for the pet/vet sectors and other niche industries. The woman-owned company was founded by Lea-Ann O'Hare Germinder, APR, Fellow PRSA in Kansas City and has offices in New York City and Kansas City. The company connects and consults with executives in both established companies and organizations interested in entering the vet and pet industries in the U.S.
Goodnewsforpets.com™ combines an award-winning website and social media channels to curate news of interest and importance to pet parents, veterinary professionals and the pet industry. Editorial, contests, sponsored content distribution and advertising are available.
GNFP Digital™ provides a wide range of digital services including digital audits, standard or custom infographics, topic specific modules and branded content implementation. The custom digital content development and distribution services are offered for national brands, veterinary practices and other niche markets.
Contact:
Lea-Ann Germinder, APR, Fellow PRSA [email protected] or 917-334-8682